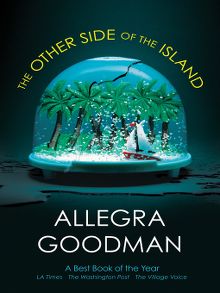 The cover of this book was actually the thing that caught my eye. I mean, you look at it and you could imagine the story going a bunch of different ways. I never would've guessed the way it actually went.
In
The Other Side of the Island
, by Allegra Goodman, a girl named Honor moves from the North with her mother and father to Island 365. Island 365 is very different than the North. For example, the sky is artificially colored a different color for every hour of the day. Honor can't go out after dark, and in school she learns all about the Earth Mother, who supposedly is protecting everyone on Island 365. The Earth Mother keeps them safe with The Enclosure, an invisible shield that surrounds all the islands.
In school, Honor also becomes friends with a boy her age, named Helix. The class that is most difficult for Honor, is geography. In geography, she studies maps of the many islands in the Tranquil Sea. After a while, Honor realizes that her family is different from the rest of the inhabitants of the island in many ways. "Different" islanders "disappear."
Honor must decide what is more important; being true to herself and saving her family, or fitting in with the others on the island.
I loved this book. It is suspenseful, it is mysterious... it clearly describes a world that very well may become our future. I recommend this book to anyone who loves a mystery, and who likes stories about alternate realities; possibly in the future.